6-7) Pátio Central + Chaminé
11 agosto - 19 dezembro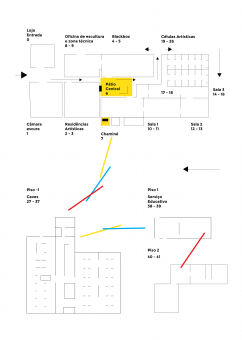 PÁTIO CENTRAL | CENTRAL YARD
INSTITUTO POLITÉCNICO DO PORTO
ESCOLA SUPERIOR DE MÚSICA, ARTES E ESPECTÁCULO DO PORTO/ ESMAE
Licenciatura em Tecnologia da Comunicação Multimédia / Audiovisual Communication Studies
Tiago Cardoso
Volodymyr Kerekes
Ricardo Rodrigues (som)
WOW! – "PornoGraphic" (by Oker)
2015
Aplicação móvel de Realidade Aumentada / Graffiti Interactivo. Sistema operativo Android. Software Cinema 4D R16; Adobe Photoshop CC; Adobe Illustrator CC; Adobe After Effects CC; Adobe Premiere CC; Adobe Audition CC. Impressão em tela. / Augmented reality app / Interactive graffiti. Android OS. Software Cinema 4D R16; Adobe Photoshop CC; Adobe Illustrator CC; Adobe After Effects CC; Adobe Premiere CC; Adobe Audition CC. Print on canvas
Este projeto consiste na criação de uma aplicação móvel de Realidade Aumentada, desenvolvida para o sistema operativo Android, com a colaboração do artista de rua/ ilustrador Oker. "WOW!" nasce devido a um mútuo interesse pelas novas tecnologias, a ilustração e a forma de as explorar com uma finalidade artística multimédia. Foram selecionadas duas obras do artista ("Island" e "PornoGraphic"), com o objetivo de adicionar informação digital tridimensional sobre o real, dando a possibilidade ao utilizador de interagir e explorar as vertentes visuais e sonoras.
An augmented reality app, designed for Android OS with the collaboration of the illustrator and street artist Oker. "WOW"! results from a mutual interest in new technologies, illustration and their exploration within the context of multimedia art. Two pieces by the artist ("Island" and "PornoGraphic") were selected and new, digital information was superimposed on their real forms, allowing the user to interact with them, exploring their different sound and visual features.
||
CHAMINÉ | CHEMNEY
UNIVERSIDADE DO PORTO
FACULDADE DE ENGENHARIA/FEUP
Mestrado em Multimédia / Master studies in Multimedia
Francisca Rocha Gonçalves (Sininho)
Acousmatic Park – a path towards aural awareness.
Ambiente subaquático / Underwater environment
2015
Instalação áudio / Sound installation
Obra desenvolvida para a Digitópia Casa da Música. / Work comissioned by Digicópia Casa da Música.
Este projeto teve o apoio da The Macaulay Library at the Cor­nell Lab of Ornithology (Ithaca, New York) que cedeu gentilmente uma parte dos sons usados, do Centro Veterinário de Exóticos do Porto, do Sea Life, do Jardim Zoológico da Maia e do Parque Orni­tológico de Lourosa que permitiram a realização de gravações sonoras in situ. /  This project was supported by The Macaulay Library at the Cornell Lab of Ornithology (Ithaca, New York), who kindly provided some of the sounds used, and by the Exotic Animals Veterinary Center of Porto, Sea Life, Maia Zoological Garden and Lourosa Ornithological Park, who allowed in situ sound recording sessions.
Acousmatic Park é uma instalação sonora desenhada com o objetivo de aumentar a consciência que temos dos sons dos animais e restabelecer a nossa ligação natural ao nosso habitat. Baseado em modos de escuta casuais, semânticos e reduzidos, desenvolvemos uma instalação sonora que apresenta experiências aurais criativas que podem melhorar a nossa ligação às paisagens sonoras naturais através da recriação de ambientes há muito perdidos ou esquecidos, contribuindo assim para a preservação da memória sonora no mundo contemporâneo.
Based on casual, semantic and reduced listening modes, we developed a sound installation that presents creative aural experiences to enhance our connection to the natural soundscapes by recreating lost or forgotten environments, thus contributing to the preservation of sound memory in the contemporary world.
Back to Calendar of events