SONIC GEOMETRY
mai 2018 to mar 2019
Jornal Geometria Sónica PTJornal Geometria Sónica EN
SONIC GEOMETRY
mai 2018 until march 2019
ARTISTS | FRANCISCO JANES, FRANCISCO QUEIMADELA E MARIANA CALÓ, JONATHAN ULIEL SALDANHA,LAETITIA MORAIS, MANON HARROIS, MIGUEL LEAL, MIKE COOTER, PEDRO TROPA, PEDRO TUDELA, RICARDO JACINTO, SARA BICHÃO, TOMÁS CUNHA FERREIRA
/
"ATMOSPHERE" 
Atmosphere
"The world, so great and wide,
The sky, so high and vast,
The gaze wants to take it all in,
As it keeps eluding the mind.
To find yourself in the infinite,
You must distinguish and then combine;
Therefore my winged song thanks
The man who distinguished cloud from cloud."
                                                                             Johann Wolfgang Goethe
ARQUIPÉLAGO – CONTEMPORARY ART CENTER
Keywords: Archipelago; Atmosphere; Art; Contemporary; Creation; Citizen;              
Community; Experimental; Identity; Territory; Place (s); Condition; Circulation; Exchange; Sharing; Gaze; Society; Space; Time; Reflection; Network (s); Partnership (s); Production; Investigation; Innovation; Fluctuation; Movement; Criticism; Communication; Multiculturalism; Universality; Diversity.
In the end of 2017, when we were redrafting our program for 2018, we were confronted with several inescapable questions, which would have to be addressed in the Conceptualization and Formalization of the Artistic Program of the ARQUIPÉLAGO for the year 2018. We highlight two of these questions:
The Regional Directorate of Culture's recommendation for this year's theme: 2018 European Year of Cultural Heritage;
In April 2018, the ARQUIPÉLAGO – CONTEMPORARY ART CENTER commemorates its 3rd anniversary. As such, we thought it to be necessary to celebrate this date, and the story of our institution and program, with an event honoring the three main capacities of this CONTEMPORARY ART CENTER:
o            EXHIBITIVE AND PERFORMATIVE SPACE
o            A PLATFORM FOR ARTISTIC CREATION AND PRODUCTION
o            AN EXPERIMENTAL RESEARCH PLATFORM
In fact, as we redrafted our program taking into account the two previous issues, we were immediately reminded of the protocol we had established with RTP, RÁDIO E TELEVISÃO DE PORTUGAL. Given the new theme proposed by the Directorate, it became self-evident that we could 'offer' the artists the opportunity to work with one of the largest Sound and Visual Archives of the Portuguese 20th century, RTP's AUDIOVISUAL ARCHIVE.
Thus SONIC GEOMETRY was born, although it had no title at the time and would only be named later by our guest curator, Nuno Faria.
It is our belief that all projects should be based on pillars that ensure they will have a dimension of plurality, this is, that they cover the fields of culture, heritage and art while keeping in tune with our contemporary social debates and needs. Our goal was to assure that this project, SONIC GEOMETRY, was going to be grounded in a concept revolving around our ARTIST RESIDENCY, on a RESEARCH focusing on a UNIQUE AUDIOVISUAL HERITAGE, and would result in an ARTISTIC, EXHIBITIVE, AND PERFORMATIVE PRODUCTION.
Considering his widely acclaimed curatorial career and the dynamic work he has been doing with national and international contemporary artists as the Artistic Director of the CIAJG – CENTRO INTERNACIONAL DAS ARTES JOSÉ DE GUIMARÃES, we invited the Curator Nuno Faria.
Considering the significance of a project of this dimension, using RTP's AUDIOVISUAL ARCHIVE, we decided that it should have a co-curator, someone from RTP, RÁDIO E TELEVISÃO DE PORTUGAL. We invited Nicolau Tudela, also considering his career, and especially the work he has been developing at RTP, as a curator for the "rebranding of RTP 1", a project where he presented works by Vhils, João Paulo Feliciano, and Fernanda Fragateiro.
SONIC GEOMETRY is a project with unique artistic, cultural and social singularities. Conceptually and formally, it goes well beyond a simple performative and exhibitive event, not just because most artistic creations and productions will be focused on RTP's SOUND AND IMAGE ARCHIVE, but also because artists will be working with a Sound and Visual Memory that is already part of the Portuguese Memory. In fact, they will be producing pieces endowed with a temporal and spatial transiency that capacitates and expands the History of Image and Sound in 20th century Portugal, while transforming preexisting sound and image objects into contemporary art, building Contemporaneity, highlighting and revealing our Present and Future without forgetting our References, our Past.
SONIC GEOMETRY is a Contemporary Art Project that focuses on The Image and the Sound in the Memory of Memories, among other concepts. In the 20th and 21st century, image was freed from exclusivist narratives, from interpretations restricted to their own objects and places, allowing for 're-appropriations,' re-significations' and re-interpretations that created new and renewed 'universes.'
While programming this project we also took into account issues that continuously intersect our everyday lives, being that our archipelagic condition keeps bringing them up. It is because of this that the Atmosphere is so present in our lives. For us, who live Here:
The world, so great and wide,
The sky, so high and vast,
The gaze wants to take it all in,
As it keeps eluding the mind.
These are the reasons why, running a space dedicated to the arts, we thought about our desire for an Artistic Production that may act in fields beyond those of Landscape and geomorphology, one that operates in a space of total conceptual and formal freedom. Here, our senses are constantly aroused.
Fátima Marques Pereira
//
Sonic Geometry_Index Exhibition
energy — frequency — form
Index Exhibition presents the group of artists who, in the framework of the Sonic Geometry project, will work within the institutional context of the Arquipélago – Contemporary Arts Centre, in different physical and conceptual platforms. During a one-year period, these thirteen artists will be involved with Arquipélago, Ribeira Grande and the island of São Miguel in a large and complex project involving three distinct entities – the territory, archive and exhibition space – spanning several dimensions of the creative process, including artistic residency, research, production, exhibition, and performance.
The project combines Portuguese and foreign artists whose works and research incorporate sound, as a raw material or conceptual structure. They all ground their work on a solid basis of research and experimentation. The choice of the artists was based on collaborative awareness and, secondly, on the relationship between each artist's oeuvre and the distinctive characteristics of the archipelago of the Azores, whose volcanic origin, cosmic resonance, and the intense and diverse presence of nature (as an immanent force and feeling) has a strong impact on a wide array of different creators and thinkers.
From a philosophical standpoint, the project is influenced by several thinkers who have developed and explored the concepts of archipelago, migration and miscegenation:
Édouard Glissant (one of the most important and influential contemporary thinkers, who died in 2011), who developed the notion of cultural creolisation;
Emanuele Coccia, whose recent book "The Life of Plants: A Metaphysics of Mixture" is particularly appropriate for thinking about the relationship between human and natural entities;
Agostinho da Silva, who adopted a visionary approach to the transatlantic question and cultural flows developing between continents and peoples;
Vitorino Nemésio, whose concept of açorianidade (Azorianity) will be central to the ideas generated by the project.
This project has been designed to encompass and fulfil the different values ​​of the Arquipélago – both in terms of its exhibition and performance spaces, and its mission to produce and bring knowledge to the people living in the island of São Miguel and the archipelago of the Azores, and also export this knowledge to other places.
It is an innovative project that involves an unprecedented exploration of Portugal's largest audiovisual archive, owned by the public broadcaster, RTP, whose time horizon overlaps with the formation of a sensation of postmodern and contemporary existence in Portugal.
Finally, it is a creative project, resulting from an artistic residency in the Island (or islands), and presentation and dialogue with the local community.
Sonic Geometry aims to explore the importance of sound in the construction of our presence in the world. For example, animist societies, since time immemorial, have used sound, in particular certain rhythms and frequencies, to heal or attain levels of hyper-consciousness.
The project proposes to think about the relationship between certain sound patterns or frequencies and the creation of archetypal structures of thought and architecture, such as ancient monuments in different parts of the world. Ancient civilizations were built through observation of the Cosmos and, as far as we are aware, in function of the harmony and sound resonance of the Universe. On the basis of this timeless presentiment, all beings are interlinked by a global and collective consciousness that underpins this project.
Nuno Faria – Curator
//
to archive
to place or store in an archive. Oxford dictionary
"RTP's audiovisual archive is a true repository of the national collective memory, (…) a heritage whose origins date back to the first regular radio and television broadcasts, in 1936 and 1957, respectively.
Its unique collection comprises different mediums and formats, as well a great diversity of contents, ranging from fiction do documentary, from information to entertainment, from the institutional to sports."
"(…) Fulfilling its mission as a radio and television public service, RTP has spared no efforts towards the long-term conservation and valorization of its archive, assuring that the public has access to it."
In "arquivos.rtp.pt"
To dive into RTP's universe and legacy, to revisit its predigital existence, the audiovisual archive of its radio and television broadcasts. These are actions that highlight how important it is for RTP to introduce artistic discourses in its channels, as well as to encourage artistic experimentation in television.
RTP continues to invest in a (curated) space dedicated to visual contemporary art, and in the promotion of Portuguese musical and visual artists.
Nicolau Tudela – Curator
BIOGRAPHICAL NOTES
Nuno Faria (Lisbon, 1971)
Curator. He is currently the director of the CIAJG – Centro Internacional das Artes José de Guimarães. He worked at the Instituto de Arte Contemporânea between   1997 and 2003, and at the Calouste Gulbenkian Foundation from 2003 to 2009. He lived and worked in the Algarve between 2007 and 2012, where he founded, among other projects, the project Mobilehome – Escola de Arte Nómada, Experimental e Independente (Loulé, 2009).
He is a professor at the ESAD – Escola de Artes e Design das Caldas da Rainha.
Nicolau Tudela (Viseu, 1961)
Art Director and Head of the Graphic Arts Department at RTP – Radio Televisão de Portugal.
He completed his studies in Painting at the FBAUL, Faculdade de Belas Artes da Universidade de Lisboa. Among other graphic and other audiovisual works, he is the author of the concept and image for the Eurovision Song Contest (ESC Lisbon 2018).
He is the curator for the "rebranding of RTP 1", working with artist such as Vhils, João Paulo Feliciano, and Fernanda Fragateiro, as well with the music authors Bruno Pernadas and Noiserv. He was a teacher in the fields of arts and graphic arts in Timor Lorosae (RTTL – Rádio e Televisão Timor Lorosae), and Mozambique, at the TVM (Televisão Nacional de Moçambique). (2010-2011, 2012- 2013). He is an adjunct guest professor at the Instituto Politécnico (ESEV – Escola Superior de Educação) in Viseu.
He has been exhibiting his work regularly since 1982.
Between 1980 and 1985, he was the recipient of a scholarship granted by the Calouste Gulbenkian Foundation.
CALENDAR OF EVENTS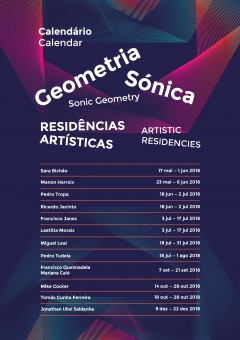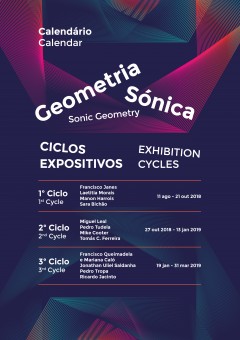 Back to Calendar of events